Our goal
The goal of our research is to enhance the quality of dental care and promote the nation's health by solving questions from both clinicians and patients through clinical epidemiological research. We are particularly focused on dental practice-based research.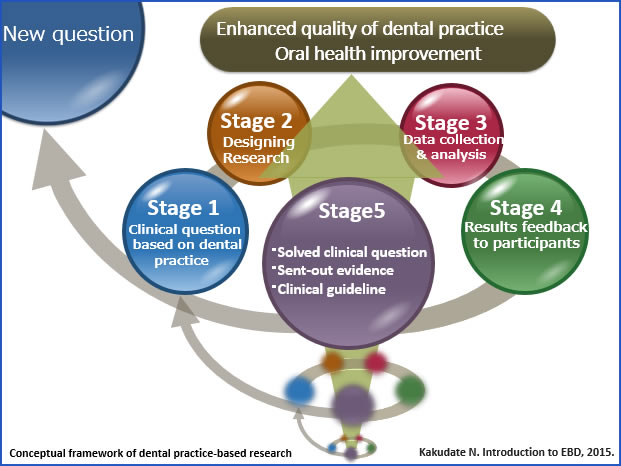 Promoting Practice-based Research
We have taken a leadership position in promoting Practice-based Research in Japan. Practice-based Research (PBR) is a research model that aims to answer questions based on daily clinical practice, and provide feedback to dental clinicians using knowledge obtained by research. Our research sites are clinical practice settings, such as private dental clinics. PBR selects research topics based on questions that clinicians encounter in their daily dental practice, in cooperation with clinical epidemiologists. Because the research is conducted at "real world" dental practice settings, the results of PBR are fed directly back to the collaborating clinician, and more widely to other clinicians, and are promptly implemented into daily practice. Conducting PBR to generate clinically relevant evidence will lead to the dissemination of evidence-based dentistry, and elevate the quality of dental care and promote the standardization of dental treatment.
US Trends toward a Dental Practice-based Research Network (Dental PBRN)
In the US, the NIH (National Institutes of Health) began developing the nationwide Dental PBRN in 2005. The National Dental PBRN is headquartered at the University of Alabama at Birmingham and currently collaborates with over 3,000 dental practitioners across the US. It is the world's largest such network by both budget and number of participating clinicians.
At present, the National Dental PBRN is conducting multicenter joint research across the US to solve clinical questions from private dental practitioners. To date, numerous studies have been conducted and a mountain of important data has been generated.
Construction of a Dental PBRN in Japan
Our division operates the Dental PBRN Japan (JDPBRN), which is the first international PBRN in Japan. Working both with the National Dental PBRN or independently, the JDPBRN is now conducting the following research programs:
Ongoing studies
Japan and US collaborative study 1: Assessment of caries diagnosis and caries
Japan and US collaborative study 2: Primary Care Management for TMJD Pain
Japan and US collaborative study 3: Reasons for Replacement or Repair of Dental Restorations
JDPBRN original study 1: "What Practice-based Research is needed by patients?"
JDPBRN original study 2: "Use of clinical practice guidelines by dentists in Japan"
JDPBRN original study 3: "International comparison of the Evidence-Practice Gap (EPG) and an educational intervention aimed at improving the gap"
International Research Collaborators
Prof. Gregg H Gilbert DDS, MBA, FAAHD, FICD
Director of the National Dental PBRN
Professor & Chair, Department of Clinical and Community Sciences, School of Dentistry, University of Alabama at Birmingham, USA
Prof. Valeria V Gordan DDS, MS, MS-CI
National Director of the Practitioner Training & Education Component and Director of the South Atlantic Region of the National Dental PBRN
Professor and Director for Practice-based Research, Department of Restorative Dental Sciences at the University of Florida College of Dentistry, USA
We have conducted international collaborative studies with Professors Gilbert and Gordan since 2010. To promote this collaborative work, Prof. Kakudate has been a visiting professor at the University of Florida College of Dentistry since 2015.